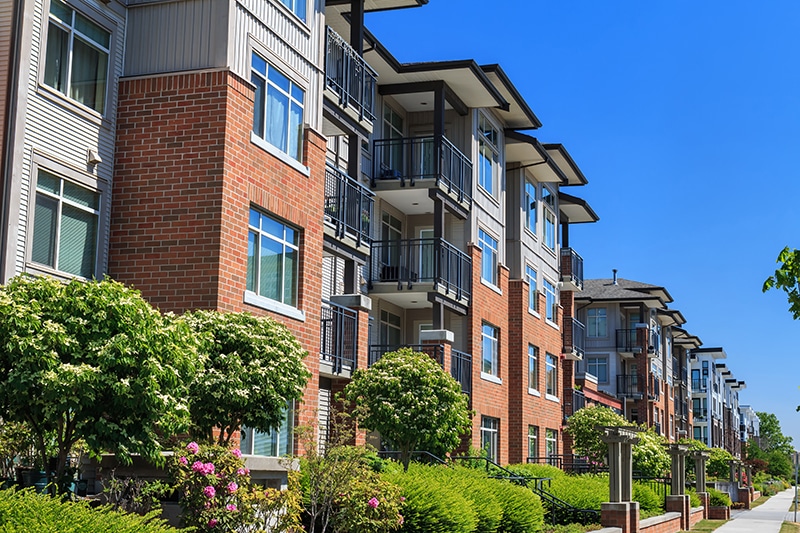 CETAN INCOME FUND
Cetan Income Fund, our original fund launched in 2017, is now one of two real estate debt fund investment opportunities with Cetan. Both Cetan Income Fund and Cetan Opportunity Fund generate attractive returns and provide quarterly dividends to investors by funding short-term, business-purpose loans secured by real estate in Oregon and SW Washington.
Unlike other real estate investments, with an investment in either Cetan Income Fund or Cetan Opportunity Fund no one investor funds a specific real estate secured loan. Instead, our investors pool their money in the Fund and the Fund purchases the loans we make, giving our investors exposure to every loan within the portfolio. Our team works closely with our borrowers to help their projects succeed. With our focus on diversification and our hands-on approach with borrowers, we mitigate risks and provide a greater return on investment for all investors.
INVEST IN CETAN INCOME FUND
The Cetan Income Fund is only open to accredited investors.* These investors can reside anywhere in the United States. Investing in this Fund is an excellent diversification strategy for investors seeking to strengthen their portfolio. We have over 60 years of combined experience in lending and real estate development and have a proven track record of managing risk and delivering 8-10% annualized returns to investors in Cetan Income Fund.** 
To read more about the differences between Cetan Income Fund and Cetan Opportunity Fund, please visit our Investors Page for a comparison and Cetan Opportunity Fund page to further explore this new Fund offering for qualified Oregon residents.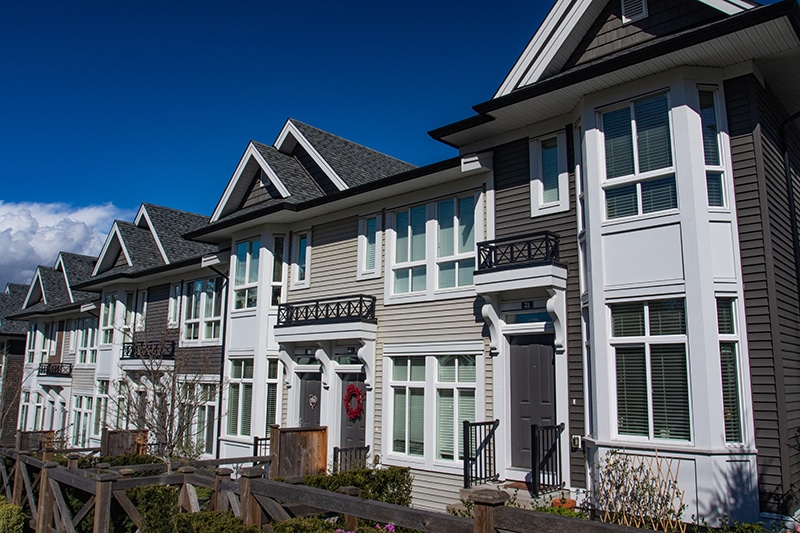 WHY INVEST WITH CETAN?
The right real estate debt fund can bring substantial returns. When partnering with our team by investing in the Cetan Income Fund or the Cetan Opportunity Fund, investors experience the following benefits:
Deep Local Market Knowledge
Our principals have decades of experience in regional and community banking, real estate development, and relationship building in Oregon. We know the market well and are uniquely qualified to vet potential loans and manage the fund.
Real Estate Secured Loans
Loans are secured by a deed of trust on the borrower's real estate, most often in the first position.
Investor credit risk is mitigated through a variety of tactics, including disciplined due diligence of borrowers and underlying assets, no permanent external leverage in the Fund, a target range of 60-75% loan-to-value, and a pooled fund approach whereby an investor's risk is spread over the entire portfolio and not just one loan.
Our investment strategy benefits from multi-year positive economic fundamentals in Western, Southern and Central Oregon, driving high demand for residential housing improvements, commercial rehab and new construction, and land development. A decade of strong population and economic growth are factors that have impacted Oregon's housing supply deficiency.
Cetan Income Fund has consistently delivered 8-10% annualized returns to investors since its launch in 2017.** In the chart below you can see our historical performance demonstrating a strong track record of results. The only year we missed our target return was 2020 when operations were temporarily paused due to the COVID-19 pandemic. 
*Investors qualifying for accreditation must have a net worth of $1,000,000 excluding their primary residence, or annual income of $200,000 for single filing status or $300,000 for joint filing status.
**Returns shown are net of all fees and expenses. Past performance is not a guarantee of future returns.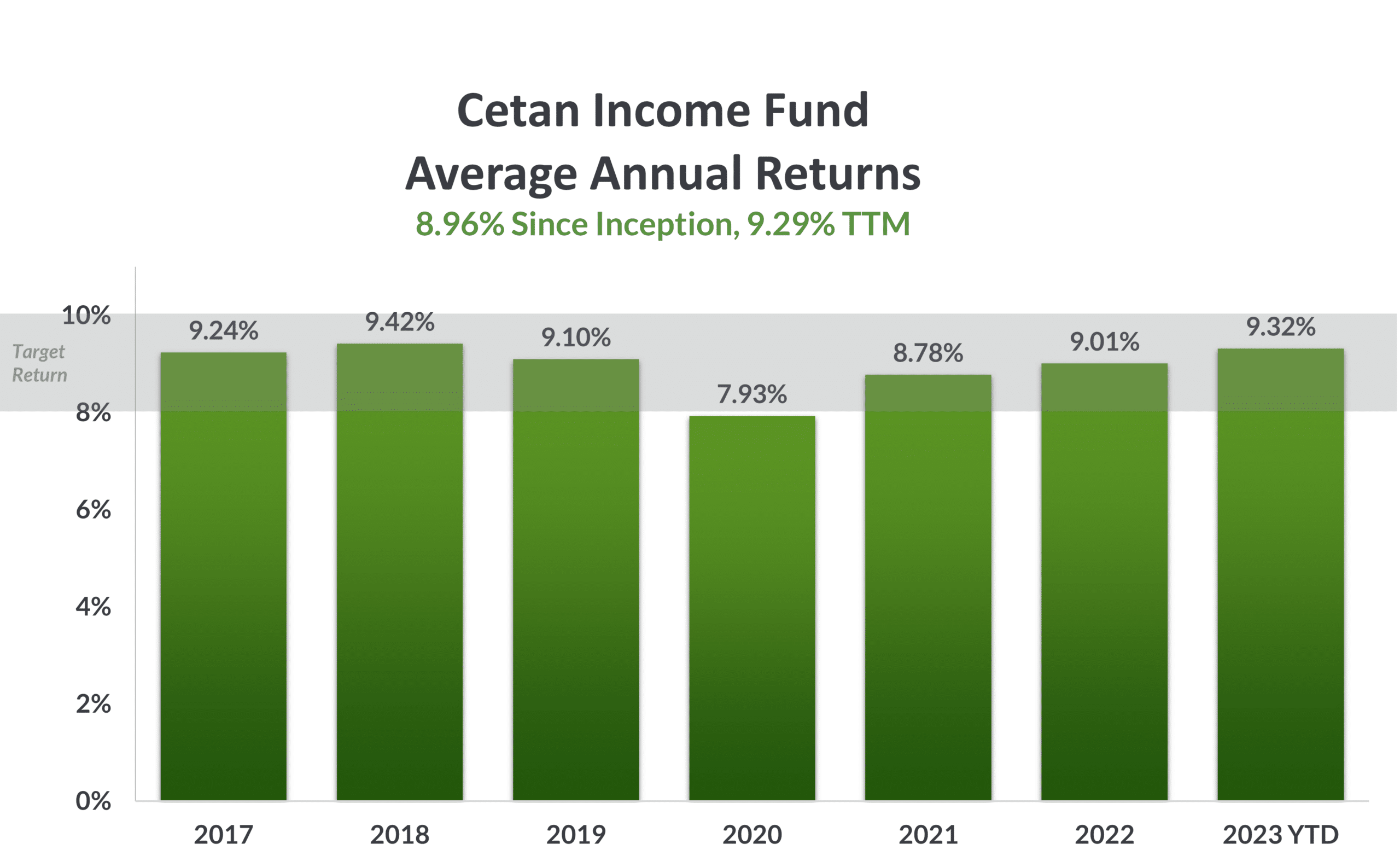 For more information on Cetan Income Fund: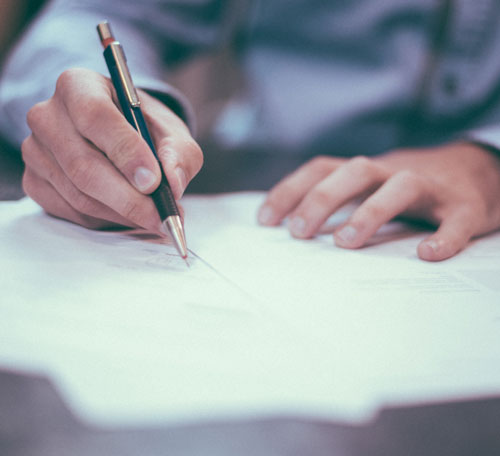 Recently Funded Projects
Real success stories from recent projects funded by Cetan Funds. Here you can see how your investment dollars are being put to work in our communities.
What is Cetan Income Fund's Investment Objective?
Cetan Income Fund and Cetan Opportunity Fund (the "Funds") are real estate debt funds that deliver consistent and attractive risk-adjusted returns to investors who seek preservation of capital and income.
Who Manages The Fund?
Our CEO, Mary Merriman, manages the Fund and lending operation. She has over 40 years of lending experience, holding a variety of executive-level positions at banks and an economic development lending organization. Steven Yett is actively involved in daily operations, fund management, and business development. Zach Smith is also an integral part of the team, leading loan originations and other business development activities. To learn more, please visit our Meet the Team Page or contact us.
Can Anyone Invest?
Cetan Income Fund: This Fund is only open to accredited investors with a net worth of $1,000,000 excluding their primary residence, or annual income of $200,000 for single filing status or $300,000 for joint filing status. This Fund is open to investors from anywhere in the United States.
Cetan Opportunity Fund: This Fund is only open to Oregon residents with either 1) a minimum annual gross income of $70,000 and a minimum net worth of $70,000 excluding their home, home furnishings, and automobiles; or 2) a minimum net worth of $250,000 excluding their home, home furnishings, and automobiles.
Can I Invest with IRA Funds?
Yes. Investors with a Self-Directed IRA account can invest in the Fund. Currently, we are well below our 25% threshold.
If you do not have a Self-Directed IRA account, we can help you create a self-directed IRA (SD-IRA) account and use those funds to invest in the Fund. Please contact us with questions and a list of IRA custodians we have worked with in the past.
Cetan Income Fund also includes a promissory note offering for accredited investors, which many of our IRA investors benefit from. 
How Do I Track My Account Balance?
We provide investors a secure online investor portal to access subscription documents, quarterly statements, fund financial information, investor updates, and tax documents.
How Do I Withdraw My Investment?
Every equity investment has a 12-month "lock-up" period where withdrawals are only allowed for hardships and early withdrawal fees may apply. After this "lock-up" period, investors may withdraw at any time with at least 60-day notice.
How is Risk Mitigated?
Management actively monitors our real estate debt fund and mitigates risk by deploying several strategies:
1. We maintain a diversified portfolio of loan types, loan purposes, and geographic locations in Oregon and SW Washington. Our loan types consist of residential and commercial loans with subtypes of new construction, rehab, acquisition and development, and bridge/term. We only finance business-purpose loans that provide funding for purchases, refinances, rehabs, new construction, and development.
2. The portfolio's weighted average loan size is typically below $500,000, so our transactions are small. Therefore, the projects tend to be more resilient given the high demand for affordable housing and when faced with conditions that negatively affect the real estate market.
3. Generally, our loan-to-value (LTV) ranges are from 60-75% in Cetan Income Fund and 65-80% in Cetan Opportunity Fund, with a portfolio target of a weighted average LTV at 65% or less for Cetan Income Fund and 70% or less for Cetan Opportunity Fund. To determine value we complete an internal evaluation that uses a variety of sources, including an Automated Valuation Model, Broker Price Opinions, as well as our direct sourced market and comparable data. On properties with a unique purpose or for larger loans, we typically order appraisals.
4. Loans are typically secured with first position liens. Cetan Opportunity Fund may also selectively fund loans secured with second position liens. 
5. In Cetan Income Fund, loan terms range from 6-36 months with the weighted average asset life in the loan portfolio target of 12-15 months. In Cetan Opportunity Fund, loan terms range from 6-60 months with the weighted average asset life in the loan portfolio target of 15 – 21 months.
6. We use leverage minimally as it is not a permanent funding strategy. Cetan Income Fund has a bank line of credit that is used to meet temporary liquidity needs but rests it at $0 frequently during the year. Cetan Income Fund also offers 6 to 36-month Promissory Notes to investors who prefer to loan their money to the Fund rather than invest in equity or wish to have a mix of both. Cetan Opportunity Fund, on the other hand, was recently launched in 2023 and does not currently use leverage or offer promissory notes to investors. Once the Cetan Opportunity Fund reaches $5 million in assets under management, we may establish a bank line of credit to use to meet temporary liquidity needs. Management will always limit leverage in both Funds to a maximum of 20 – 25% of assets under management.
Why Do Banks Not Make These Loans?
This is because of several factors, including regulatory constraints, banks' large overhead expense making smaller loans unprofitable transactions, and obtaining a bank loan often takes too long, or the process of obtaining it is complicated and expensive.  
Though the typical borrower is creditworthy, they are seeking a loan that is not readily available from traditional banks and credit unions. Cetan Funds addresses this credit and service void in the marketplace by taking reasonable risk while processing applications with speed, transparency, and accuracy.
What Distinguishes Cetan Funds From Other Non-traditional Lenders?
The Cetan Advantage is what sets us apart from other lenders. It provides borrowers superior lending experiences. As a result, our investors are well positioned to realize a positive investing experience as well. The Cetan Advantage embodies the following values:
Expertise

Partnership

Efficiency

Flexibility

Integrity
How Are Returns Calculated and Earnings Distributed to Investors?
Both Funds fully distribute net income to all investors on a pro-rata basis quarterly. All investors are treated equally as we do not have a preferred return, classes of shares, or any other preferential treatment.
We close the accounting quarterly, derive the net income, and then our fund management software calculates the distributions to generate investor statements. Dividends may be withdrawn or reinvested in additional shares. Generally, it takes two to three weeks to close a quarter and distribute the earnings to investors.
Are Your Financial Statements Audited?
Yes, our financial statements are audited annually by a qualified CPA firm that specializes in private equity funds that include real estate debt funds and are posted for existing investors as well as available for interested investors.
What Type of Income Will My Earnings Be Considered?
Equity investors earn ordinary income and will receive a K-1 schedule for their tax returns. For IRA investors, Unrelated Business Taxable Income is generated but is limited to the amount of income that is generated from leverage; hence, it is a very small percent. Promissory Note investments in Cetan Income Fund generate interest income, so this income is reported on a 1099 INT statement.
None of the information herein is to be construed as a solicitation, recommendation or offer to buy or sell any security, financial product, or instrument. Any projections or targets are aspirational only, are not guaranteed, and do not reflect past or current performance. Any report of past performance is no guarantee of any future performance. As with any investment, an investment in the Company is subject to risks, some of which could be substantial. No investment should be made in the Company by any investor who cannot afford to lose their entire investment. There are also restrictions on re-sale of Company securities and no investment should be made by any investor who cannot afford to hold the investment in the Company for a long period of time. This investment is only allowed and suitable for certain kinds of investors, who must have their investment status verified and confirmed in writing. No investment may be made, and no investment will be accepted unless the Company has received and approved the required written verification of each investor's status.